Coach Wooden Citizenship Cup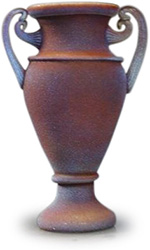 John Wooden is perhaps the greatest coach and the most admired role model in the history of collegiate sports. In 2004 he gave Athletes for a Better World permission to use his name for an annual award. The Coach Wooden Citizenship Cup is presented to two distinguished athletes – one collegiate and one professional – who have made the greatest difference in the lives of others. The recipients are athletes of excellence both on and off the field, role models both as performers and persons.
The goal of ABW is to make the Coach Wooden Citizenship Cup the most prestigious award in all of sports. It is unique because it is open to all athletes in all sports and is given to those who have made the greatest difference in the lives of others.
Nominations for the Coach Wooden Citizenship Cup are solicited from all colleges and universities from all divisions. The nominations are reviewed by a screening committee and narrowed to a list of finalists who are then voted on by the Vincent J. Dooley Advisory Committee and the National Electors, representing a group of approximately 100 voters from around the country.
The Cup
The unique amphora vessel is hand-blown glass from the Seattle Glassblowing Studio. Custom designed for ABW and the Wooden Cup by glass artists Cliff Goodman and Cyrena Stefano, this Cup was blown with the concepts of sportsmanship, integrity, community and elegance in mind. The rustic surface application, called scavo, mimics the appearance of traditional ceramic techniques used by the ancient Greeks. Their form was inspired by the ancient amphora which were used by the victors in the Pan-Athenic games to store the oil which they were awarded for winning.